The 2013 Space Coast Science Education Alliance (SCSEA) Regional Science Bowl for Middle School will be held March 2nd, at the Florida Solar Energy Center. For more information, visit the SCSEA web site.
2012 Results
2012 Middle School Science Bowl finalists for the academic portion were:
Abraham Lincoln Middle School
Falcon Cove Middle School
Ronald McNair Magnet School
2012 Middle School Science Bowl finalists for the Hands-on-Hydrogen portion were:
Edgewood Jr/Sr High School
McLane Middle School
Orlando Science Schools


Past Middle School Science Bowl Pictures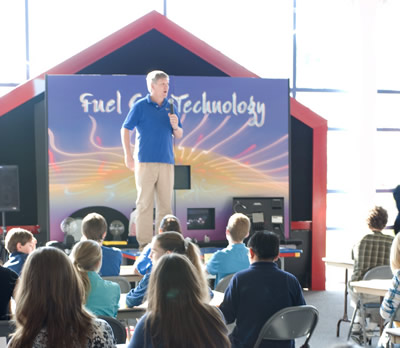 James Fenton, Florida Solar Energy Center's director, addresses the middle school teams before the competition begins. See more photos of the event.
Background
The Florida regional event is a fast-paced question and answer contest during which students answer questions about earth science, physical science, life science, math, energy, and general science.
The first, second and third place teams receive trophies and ribbons. The members and mentor from the top science bowl team receive an all expense paid trip to compete in the National Science Bowl in Washington D.C.