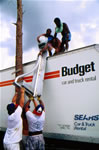 FSEC offers assistance and information on a range of photovoltaic (PV) applications for disaster relief, recovery and mitigation. Since 1992, when south Florida experienced major devastation caused by Hurricane Andrew, the center has been involved in numerous projects which include:
Studying the energy needs of disaster relief organizations
Evaluating and testing PV equipment for use after disasters
Conducting workshops
Providing technical support to various disaster relief and emergency management organizations and the solar industry
Designing demonstration projects
Loaning PV equipment for use after disasters
This work has been sponsored by the Florida Energy Office of the Florida Department of Environmental Protection, the U.S. Department of Energy, National Renewable Energy Laboratory, Sandia National Laboratory, and industry.



Technical Assistance
This section gives a brief description of these projects, facilities and researchers available at FSEC to support disaster response, recovery and mitigation efforts using PV power.

Equipment
A growing number of disaster relief and emergency management organizations use PV equipment in their daily operations. Learn more about PV equipment available for this specialized application in this section.
Training
FSEC offers training on a variety of PV-related topics that focus on the application of PV to disaster relief efforts.

Links
For over 30 years, FSEC has been researching and working to help with disaster support, but we still don't know everything. Take a look at some of these links for more information.