2006.12.15
FSEC-Sponsored Fuel Cell Team Succeeds at
International Youth Fuel Cell Competition
Creativity, innovation, technology and knowledge.
All these talents and expertise came together, along with a lot of hard work, to result in success for the Florida Fuel Cell Team from Edgewood Junior – Senior High School in Merritt Island when they competed in the International Youth Fuel Cell Competition (IYFCC) in Honolulu in November 2006. The result was a first-place finish in the Quiz Bowl and in the Fuel Car Race engineering categories and second-place finishes in the Hydrogen Timepiece (artistic) and Fuel Cell Car Race (speed).
The team also received the Ovonic Hydrogen Storage Award for the Greatest Insight into the Future of
Hydrogen Storage.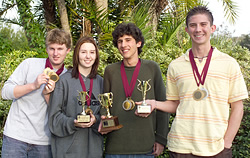 Representing Florida at the International Youth Fuel Cell Competition was Edgewood Jr./Sr. High's (left to right) Taylor Munsey, Melissa Ingram, Michael Granatosky, Martin Moneysmith
Members of this team were students Michael Granatosky, Melissa Ingram, Martin Moneysmith and Taylor Munsey. Their instructor was Ryan Cilsick.
Their competition included 16 other high school students from Russia, India, Japan, Canada and the United States, who were chosen for their exemplary science skills and environmental stewardship. The competition included a Quiz Bowl and a Hydrogen Timepiece building event, and culminated with a Fuel Cell Car Race. Team designs were judged on knowledge, engineering skills and originality. The purpose of the competition was to highlight the growing global efforts of renewable energy education and demonstrate the importance of students to the future of this science, particularly as it relates to hydrogen fuel cells.
Several University of Central Florida/Florida Solar Energy Center faculty and staff members helped the students prepare for the competition, including Penny Hall of FSEC's K-12 education department who accompanied the students on their trip. Jim Fenton, FSEC Director, offered background information on fuel cells. Clovis Linkous, Senior Research Scientist, provided some basic but essential electro-chemistry and hydration facts about the functioning of the fuel cell that the students were using for their car and timepiece. He advised them to be aware of the state of the water necessary for the operation of the fuel cell and showed them how to "polish" the electrodes.
Others who worked with the students included James Haggard, Coordinator of Web Engineering, who provided information on the basics of fuel cell operation; William Wilson, Research Engineer, who helped the students with the gears and wheels, and Paul Yocum, Senior Engineering Technician, who helped with the electrical circuits. Clarence Beck, Machinist, helped the students develop their ideas for their car and timepiece from concept to working models. He provided consultation on blueprints and manufacturing the devices. Beck said he enjoyed doing "anything to help kids with their heads pointed in the right direction."
Ryan Cilsick, the students' teacher who has worked with these students for three years beginning in the spring of 2004 with their first Hydrogen Sprint at FSEC and who traveled with them to Honolulu to see their success in the international competition, said that the students did a great job and learned the crucial lesson that it is necessary to plan and allow time to work the plan, that it is "impossible to design today and build tomorrow" – probably the most valuable lesson they learned.
Cilsick said the opportunity for all of the youngsters to get to know students from different cultures was terrific. At the awards ceremony two girls from India did a traditional dance for the group, which really impressed the Americans. The Edgewood students learned a few words of Russian and other languages—enough that they could communicate, but there was little time for visiting with a jam-packed schedule focused on hydrogen, fuel cells, and other renewable energy sources.
The IYFCC event was supported by international leaders in the hydrogen fuel cell and renewable energy field, including: FuelCellStore.com, National Renewable Energy Laboratory, h-tec of Germany, Ovonic, Aspect Association of Russia, Moubic of Japan, Florida Solar Energy Center, Russian Federal Agency for Education, Russian Federal Agency for Science and Innovators, Moscow Power Engineering Institute, Russian National Center of Information Analysis, Hydrogenics of Canada, PixyJack Press, Students Fueling the Future, Mike Binder and Associates, UTC Power, Ingram Crane, IAP Worldwide Services, Society of Military Engineers—Space Coast Post, Canaveral Counsel of Technical Societies and Electronic Training Solutions, Inc.
Results of the IYFCC illustrate the capability of the Florida team:
| Category | 1st Place | 2nd Place | 3rd Place |
| --- | --- | --- | --- |
| Quiz Bowl | Florida | India | Hawaii II |
| Hydrogen Timepiece — Accuracy | Russia I | Japan | North Carolina |
| Hydrogen Timepiece — Engineering | North Carolina | Russia I | Hawaii II |
| Hydrogen Timepiece — Artistic | Hawaii I | Florida | Japan |
| Fuel Cell Car Race — Speed | Japan | Florida | Russia I |
| Fuel Cell Car Race — Engineering | Florida | Japan | Canada |
| Fuel Cell Car Race — Artistic | Hawaii II | India | Russia II |