2006.10.03
Purchase ENERGY STAR® Appliances Tax-free
During Energy Efficient Week
If you've been thinking about buying a new washer or refrigerator; if you've realized that a programmable thermostat can save on your electricity bill; if your air conditioner has been worked just about to its limit and may give up any minute, then this is the week you could save some money. "Energy Efficient Week" begins Thursday, October 5, and runs through Wednesday, October 11. During Energy Efficient Week, Florida residents can buy certain appliances and other products bearing the ENERGY STAR® label tax-free.
The Florida Legislature has designated October 5 through October 11, 2006, as "Energy Efficient Week." During that time Floridians will enjoy a tax holiday on the purchase of new ENERGY STAR® products costing $1,500 or less per product. However, saving the tax is only the beginning: ENERGY STAR® products will save energy usage costs throughout the life of the appliances.
Products such as the Gossamer Wind series ceiling fans, developed at the Florida Solar Energy Center, will qualify for a tax-free purchase. The Windward and Windward III fans by Hampton Bay can provide significant energy savings. Compared to conventional ceiling fans, they consume approximately half the energy in operation, saving an estimated $20 per year in electricity costs while providing the same or greater air movement. To date, more than one million Gossamer Wind ceiling fans have been purchased across the country, saving users more than $20 million annually. Further savings can be realized by raising thermostat temperatures thus reducing air conditioning costs. Temperatures can be raised, since the enhanced air flow allows people to be comfortable, even when temperatures are set 2 to 4° F higher than usual.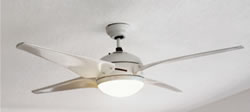 Even if you have not been planning a major appliance purchase, this is still a good opportunity to reduce your energy costs by purchasing energy-saving products. Where should you begin? Researchers at the Florida Solar Energy Center suggest an easy, inexpensive way to begin is to replace all of your incandescent light bulbs with fluorescent bulbs. Recent improvements in the technology have virtually wiped away all the complaints about the "funny" colors. And a quick look at the economics shows that the cost of installing and using fluorescents is outshone (so to speak) by the long-term savings. If you live in a 2000 square foot home, in a year's time you could save 1500 kWh and $200.00, which is about what the bulbs will cost. So in one year's time you have recouped your investment in bulbs, and you will continue to save that amount – or more – for each of the next three to five years, the life-span of the bulbs. $600 to $1000 is not a bad return on investment of $200! Next on your shopping list might be a programmable thermostat, followed by ceiling fans, whether you are installing them for the first time, or replacing your old, not-so-efficient fans.
The tax exemption applies only for the purchase of energy-efficient products for noncommercial home or personal use. The term "energy-efficient product" according to the statute, means a dishwasher, clothes washer, air conditioner, ceiling fan, incandescent or fluorescent light bulb, dehumidifier, programmable thermostat, or refrigerator that has been designated by the United States Environmental Protection Agency or by the United States Department of Energy as meeting or exceeding the requirements under the ENERGY STAR® Program of either agency. Each ENERGY STAR® product bears the ENERGY STAR® label, so you should be able to readily identify those products which qualify for the tax exemption. The tax holiday is strictly for products purchased for use in the home or for personal use.
The Florida Statute states that the tax exemption does not apply when the product is purchased for trade, business, or resale. It further provides that purchases made during this period may not be made using a business or company credit or debit card or check. Any construction company, building contractor, or commercial business or entity that purchases or attempts to purchase the energy-efficient products as exempt under this section commits an unfair method of competition in violation of Florida Statute.
NOTE: Take a look at the Florida Department of Revenue's Tax Information Publication, TIP # 06A01-21, for more information regarding the Sales Tax Holiday for New Energy-Efficient Products.